If you are a small business owner, you know there are several keys to a thriving business.

One of them is necessary funds. It's hard to admit, but when you run out of money, you run out of business. 
Another critical ingredient is time - because the old saying is true: "Time is money." 
Unfortunately, mismanaged finances and poor bookkeeping are an enormous source of wasted time and money for small businesses. 
On top of that, there's a good chance you hate managing payroll and following up on payments due. Those things aren't the reason you started your business!

We get it. At WCH CPA's, we're ready to put our years of experience to work and help you out. 
We honestly want to see your small business thrive, and that's why we're helping you understand a practice that can save you time, money, and frustration - outsourced bookkeeping. 
Ready to get started? Let's go! 
What Is Outsourced bookeeping?
You already know that accounting and bookkeeping have something to do with money management. 
However, it's definitely not a good idea to hire someone to do "something with money" - especially when it's your hard-earned cash that is in question. 
You need to know precisely and in detail what a bookkeeper can do for your business. 
Let's break it down. 
Accounting vs Bookkeeping
Defining terms in the accounting and bookkeeping world can be difficult since many of them are used loosely and sometimes incorrectly.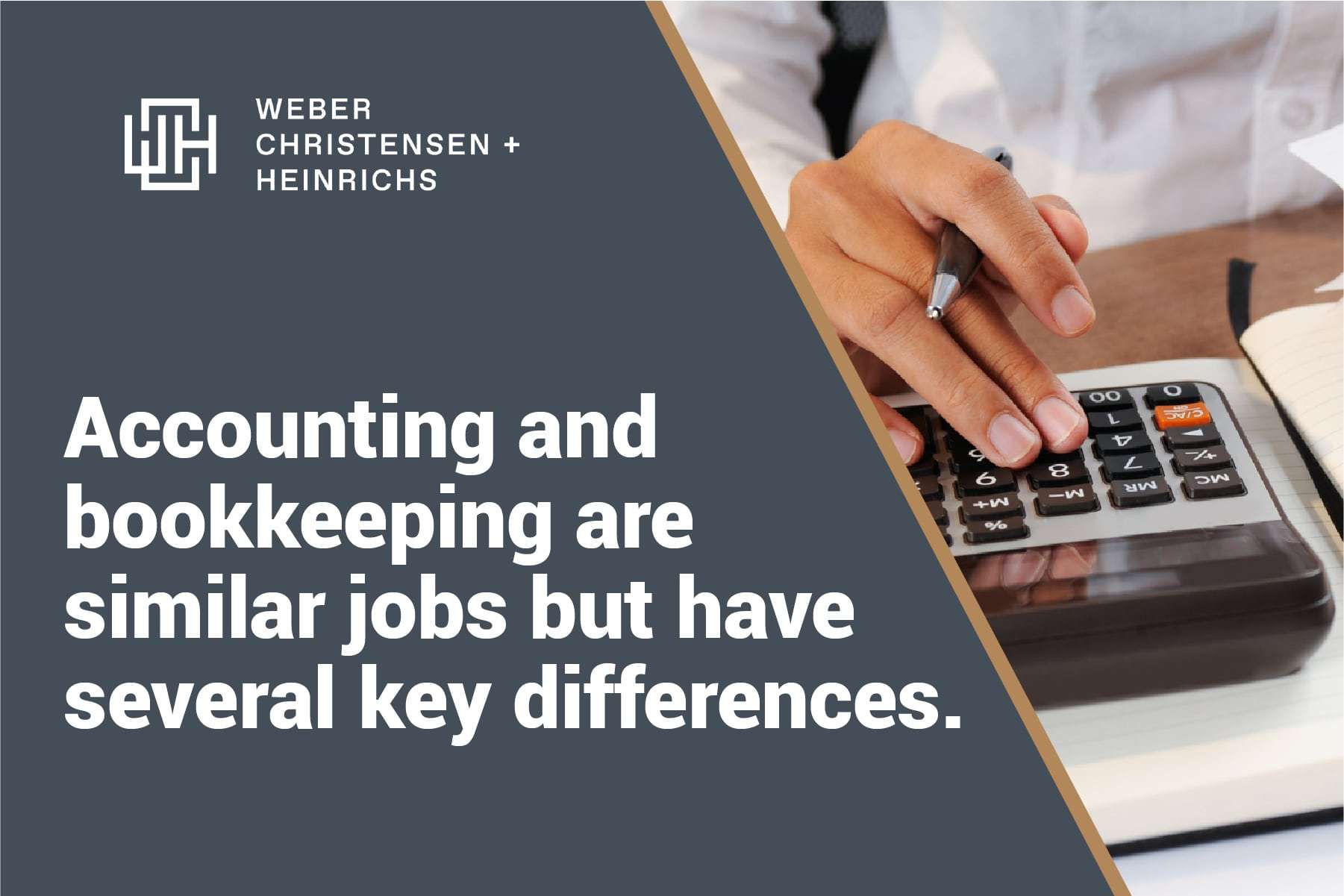 Plus, different accountants and bookkeepers offer varying types of services. There are even many different types of accountants.  
We also need to acknowledge that there is some overlap between accounting and bookkeeping services. For example, both an accountant and a bookkeeper could manage payroll. 
However, there are several differences, and we are here to help you understand them. 
Here are the key differences between an accountant and a bookkeeper: 
An accountant must have formal schooling and a Bachelor's degree, while a bookkeeper does not need formal education. You could become a bookkeeper today if you wanted. 
Because of this, the rate for hiring an accountant is often $150-400 per hour, while hiring a bookkeeper usually costs $45-110 per hour. 
An accountant deals with high-level tasks like tax preparation and business consulting. A bookkeeper deals with daily tasks like payroll and bill pay.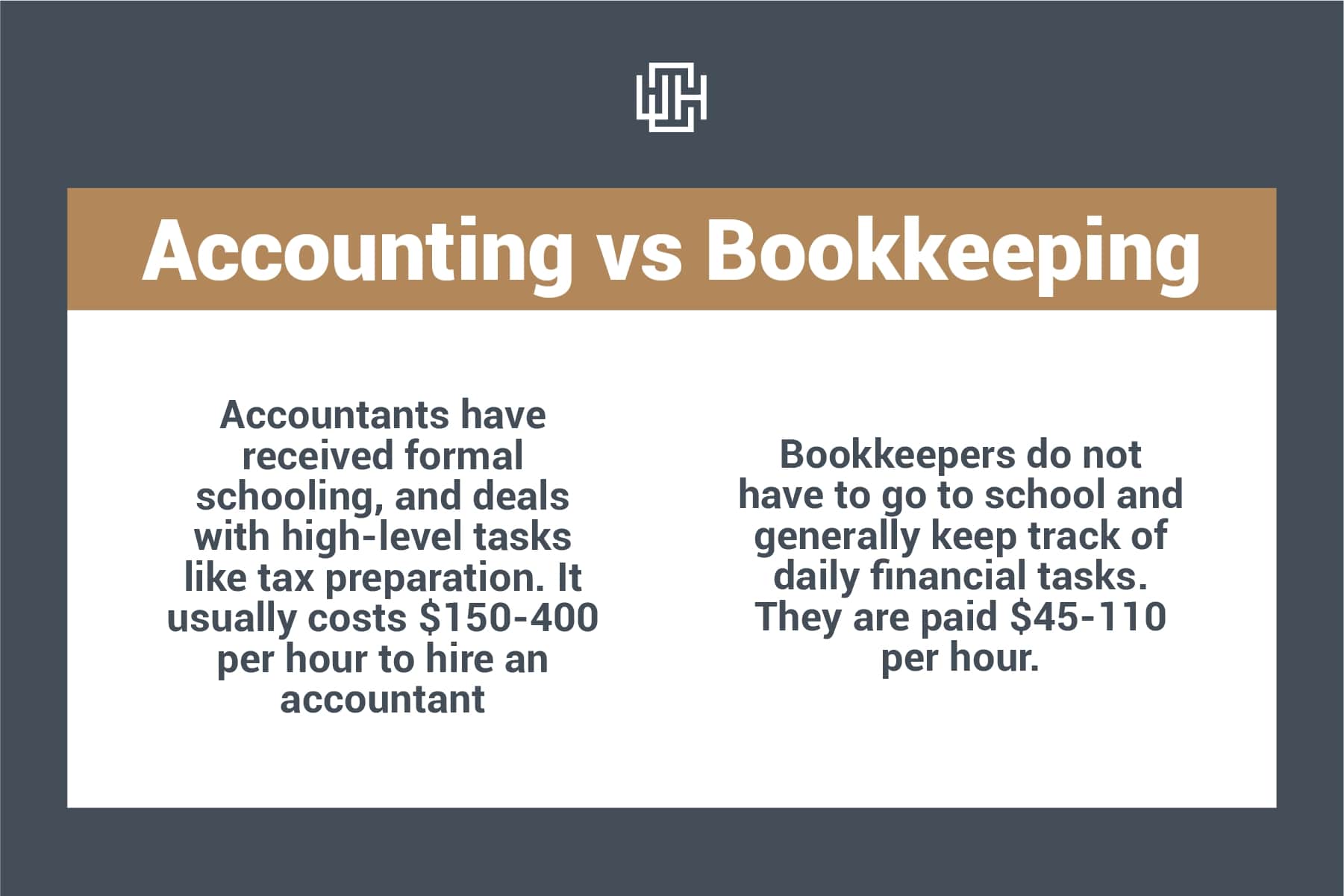 In short, an accountant is a higher level finance manager than a bookkeeper. An accountant can do any task that a bookkeeper does, but a bookkeeper may not be able to complete the tasks of an accountant. 
Of course, the training and expertise of an accountant also means you pay more than double the hourly rate of a bookkeeper! 
But don't be fooled. A lack of formal education does not mean that bookkeepers are incompetent! Many bookkeepers have years of experience, and some choose to pursue bookkeeping certifications. 
Many small businesses opt to hire a bookkeeper that manages the daily finances of their business who then communicates with an accountant on a quarterly basis for higher level money management. 
At WCH, we employ Certified Public Accountants (CPA) that offer accounting services like income tax preparation and money management advisory while also offering outsourced bookkeeping. 
It's the best of both worlds!
Outsourced Bookkeeping Tasks
Since this article focuses on outsourced bookkeeping, we want to take a closer look at what a bookkeeper can accomplish for your business.     
An outsourced bookkeeper is unique because they are a person or business that does your bookkeeping but is not technically one of your employees - hence the word "outsourced."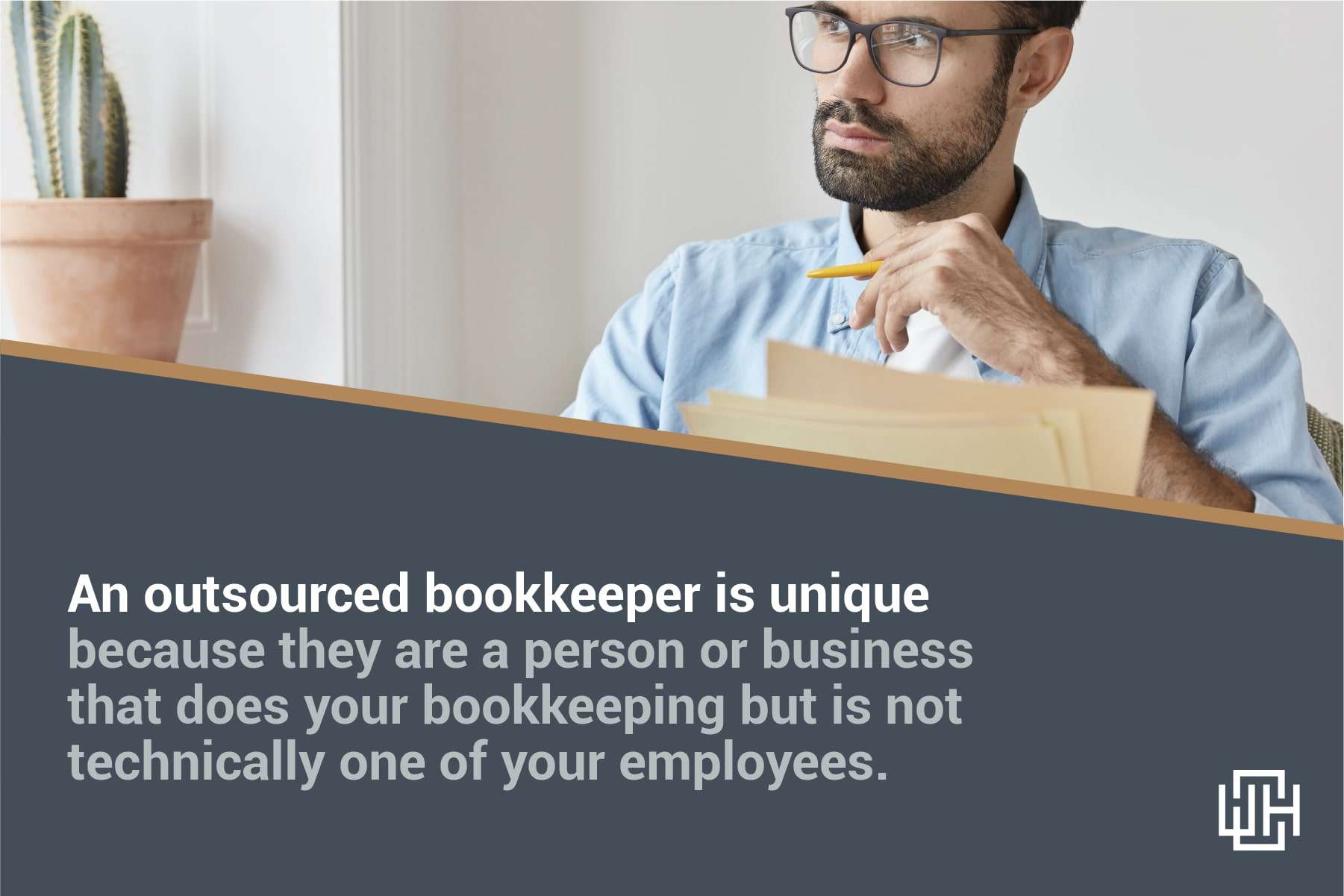 However, the job of an outsourced bookkeeper is essentially identical to that of an in-house bookkeeper. 
Here is a list of common tasks that most outsourced bookkeepers offer to small businesses: 
Categorizing expenses

Creating profit and loss statement

Managing payroll

Managing bill pay

Reconciling bank accounts

Invoicing
Of course, a bookkeeper's tasks can expand beyond these roles, especially if you have a specific request. 
But taking care of these tasks alone saves you a lot of time and money. In fact, more than a quarter of small business owners spend over 100 hours per year on their federal taxes alone.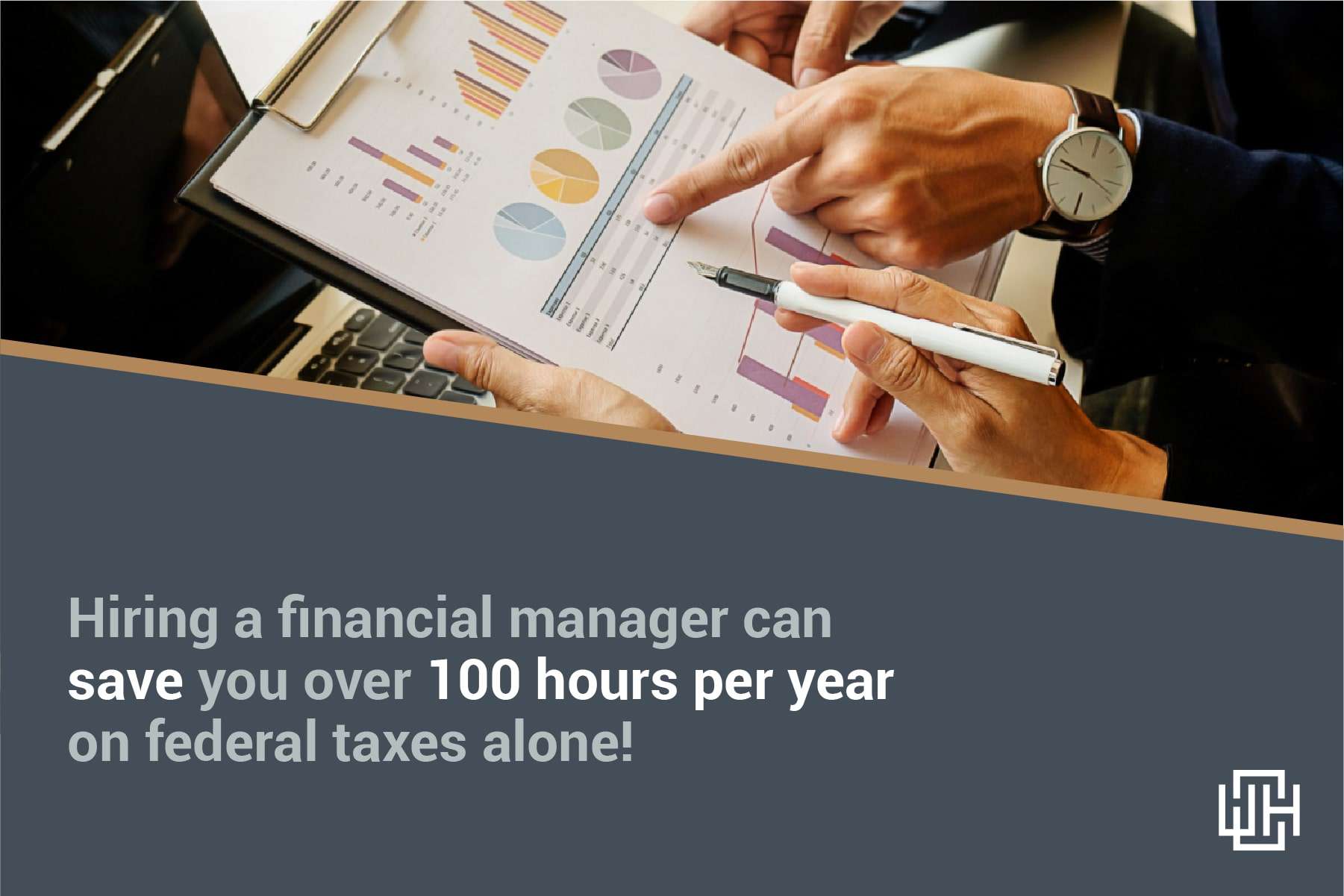 Assuming a fifty-hour work week, that's like taking off two weeks to sit in a cave while your company fends for itself! 
That's just federal taxes - forget state taxes, invoicing, receipt management, and all the other nitpicky day-to-day accounting you need to manage your business.
Benefits of outsourced bookeeping
Now we know what outsourced bookkeeping is. But here is the million-dollar question: 
Why is outsourced bookkeeping any better than doing the bookkeeping yourself or getting someone to do it in-house? 
Let's tackle question number one first. 
Is Outsourcing Your Books Better Than Doing Them Yourself? 
Ask a group of entrepreneurs why they do their own bookkeeping, and you'd get a standard response: 
"I don't have enough money to outsource my bookkeeping, let alone hire an in-house bookkeeper!" 
We get it. You need to save every penny you can. But sometimes, you aren't saving money when you think you are. 
The truth is that moving bookkeeping off of your plate and onto someone else's is going to save you money. Here's why: 
You don't have to do it yourself! That means you can spend the time and energy you need on growing your business.
You don't need to worry about inaccuracies or falling behind on your books. After all, there are entire private and government agencies dedicated to investigating financial affairs. One mistake can cost you thousands of dollars in fees or back taxes.
Clear money management allows you to identify historical trends and plan accurately for the future. 
You'll know exactly where all your money is going - and won't get caught making unnecessary payments. 
When it's time to raise money or file your tax return, your books will be professional and complete.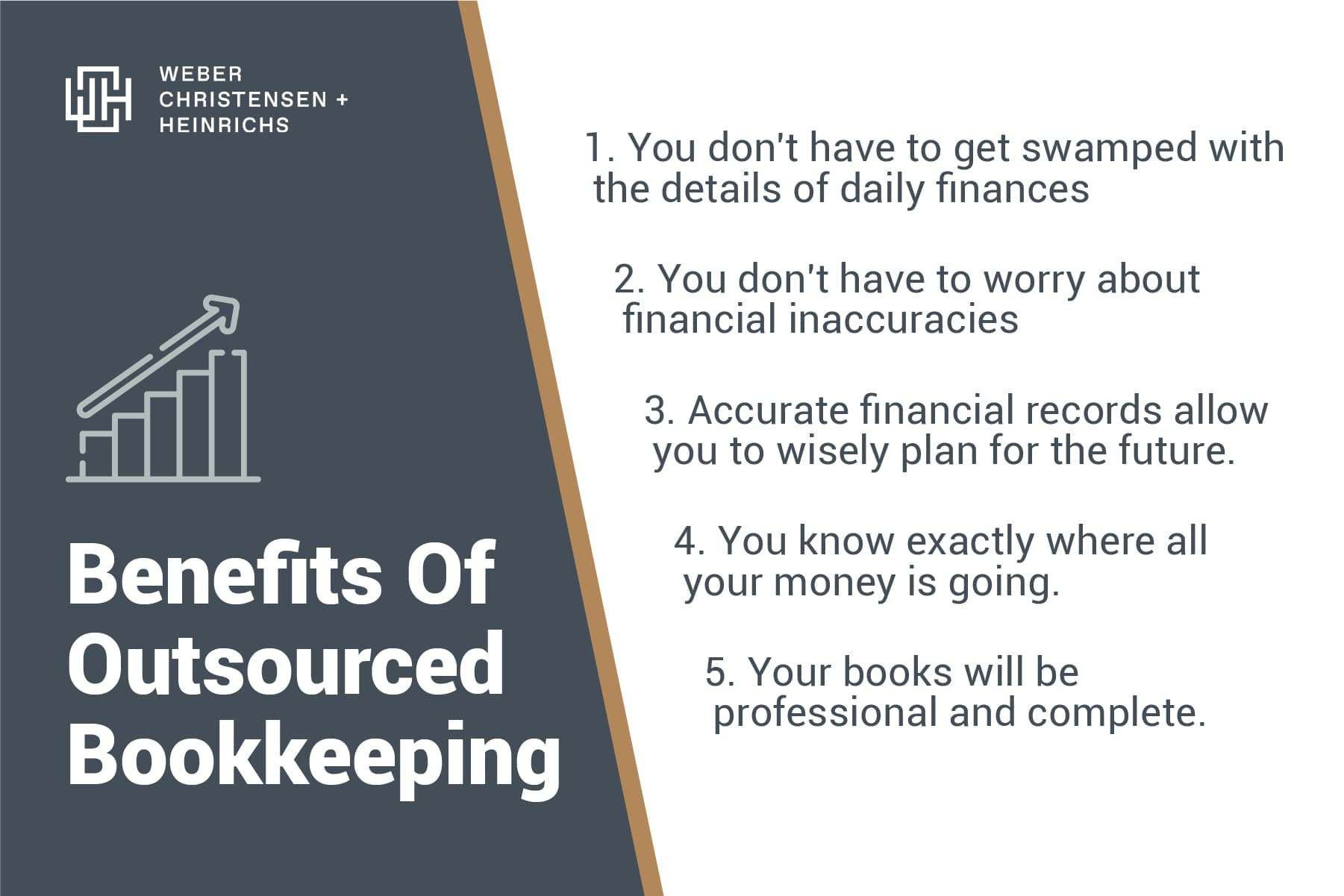 Outsourced Bookkeeping vs. In-House Bookkeeping
Outsourcing your bookkeeping to another company isn't the only option you have to offload your books. You can also hire an in-house bookkeeper.
So what are some of the benefits of outsourcing your books instead of hiring in-house?
Outsourced bookkeeping is more flexible, allowing you to scale your service up or down as your business needs evolve.
Many outsourced bookkeeping services are more cost-effective (sometimes substantially so) than paying a full-time bookkeeper's salary (plus benefits).
You don't have to take the time and energy to hire and train an in-house bookkeeper. 
Having a local or in-house bookkeeper can jeopardize internal financial records - especially if they aren't a long-term employee. Outsourcing can give peace of mind by removing a member of the close community from your financial records. 
Here's the bottom line: 
In most scenarios, outsourcing your bookkeeping is the easiest and most time-efficient way to unload the work of managing your books. More often than not, it is also a good way to save your business money. 
Who wouldn't want to reduce financial stress?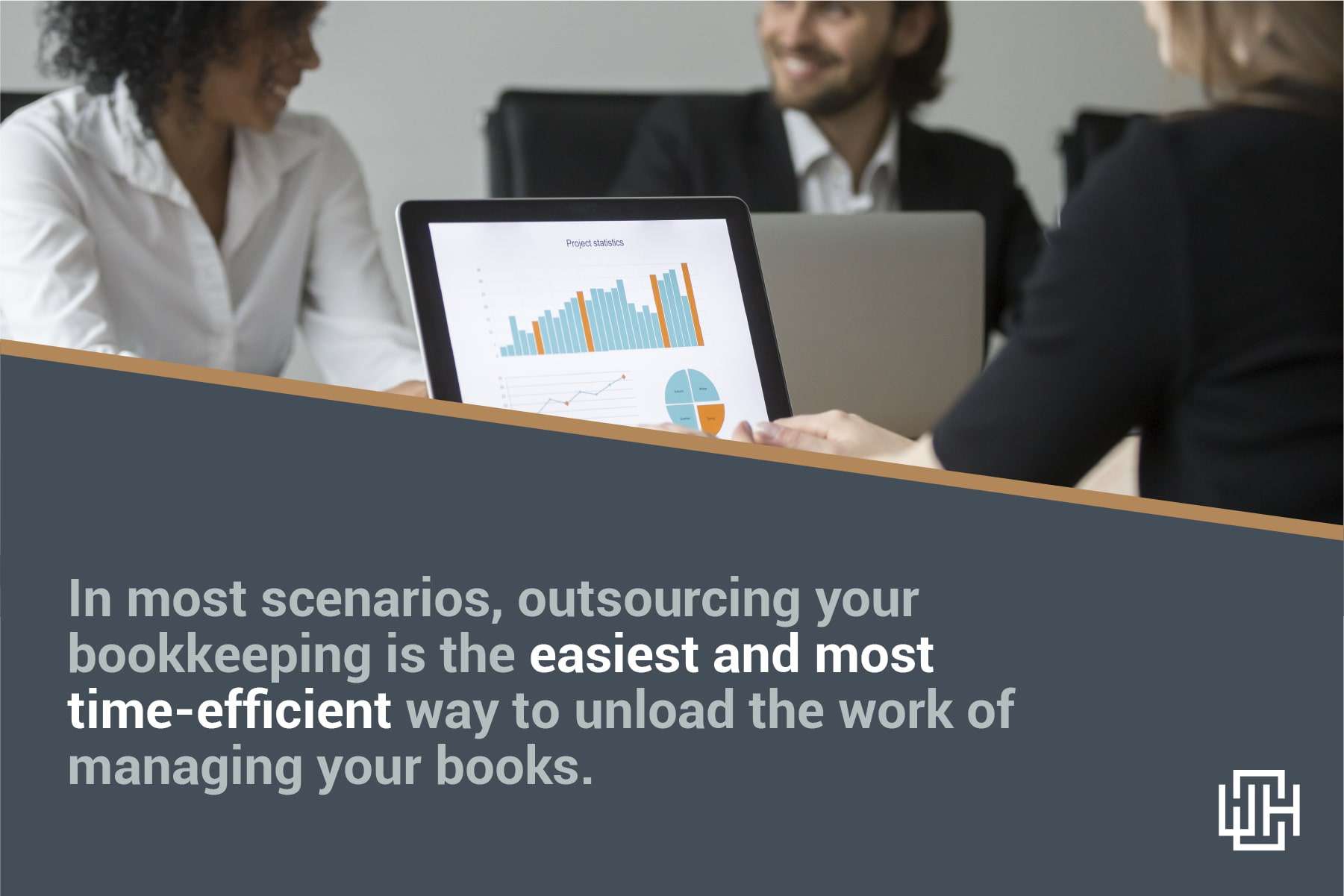 When to Outsource your books
The benefits of outsourcing your bookkeeping are clear. But is every small business always in a position to hire an outside bookkeeper? 
Not necessarily. 
For example: If your current situation works well for you, you are getting the reports you want, work is getting done on time, and the data you require is correct, then there is no need to outsource your accounting services.

This can often be the case with a small business with less than eight employees or under a million dollars in revenue. 
The question then stands: when is the right time to hand your bookkeeping over to someone else? 
Here are few triggers that should point you toward finding bookkeeping help: 
Being a Self Employed Professional, such as a doctor or dentist who's time equals billable time
Reaching $1 million in revenues
Employing eight to ten people
Accepting outside investor capital
CEO can no longer be involved in every aspect of the business
Entering the accelerated growth stage of the business lifecycle
Needing to get more out of financial software (like QuickBooks) than basic billing and collections
Wanting technology systems to interface and talk to each other
Requiring more sophisticated financial reports for data-based decision-making
If you are looking for high-level advisory assistance to make decisions as your business grows and a partner to handle day-to-day activities, you may consider hiring a CPA.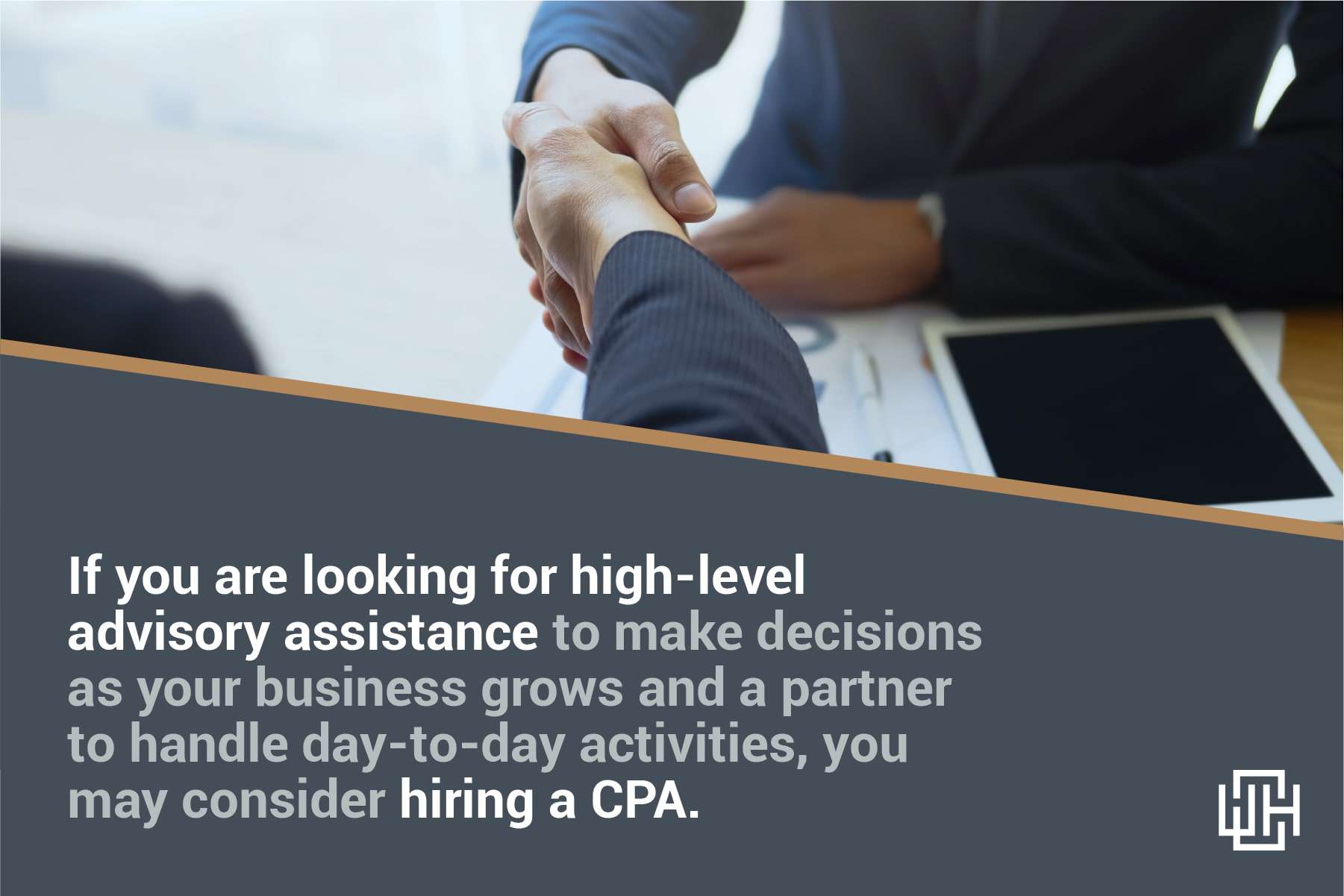 common questions
about outsourced bookkeeping
At this point, you probably know if your business is a good fit for outsourced bookkeeping. 
There's a good chance you still have a lot of questions, though!

We'll do our best to answer some of the big questions here, but if you need additional advice, don't hesitate to contact us at Weber Christensen, and Heinrichs LLP. We're happy to help!  
How Much Does Outsourced Bookkeeping Cost? 
Most small businesses want to outsource bookkeeping to reduce costs. To make sure that's happening, you have to know how much the service will cost you.
The cost of bookkeeping varies on several factors, including: 
The bookkeeper's experience level

Type of service 

The amount of work involved (hours required daily/monthly)

The type of responsibilities engaged regularly

And clean up work from your last attempt
Because of these different factors, it is not possible to name a conclusive price for bookkeeping services. 
However, a bookkeeping firm will charge anywhere between $300 to $2,000 per month, depending on the amount and complexity of the work required.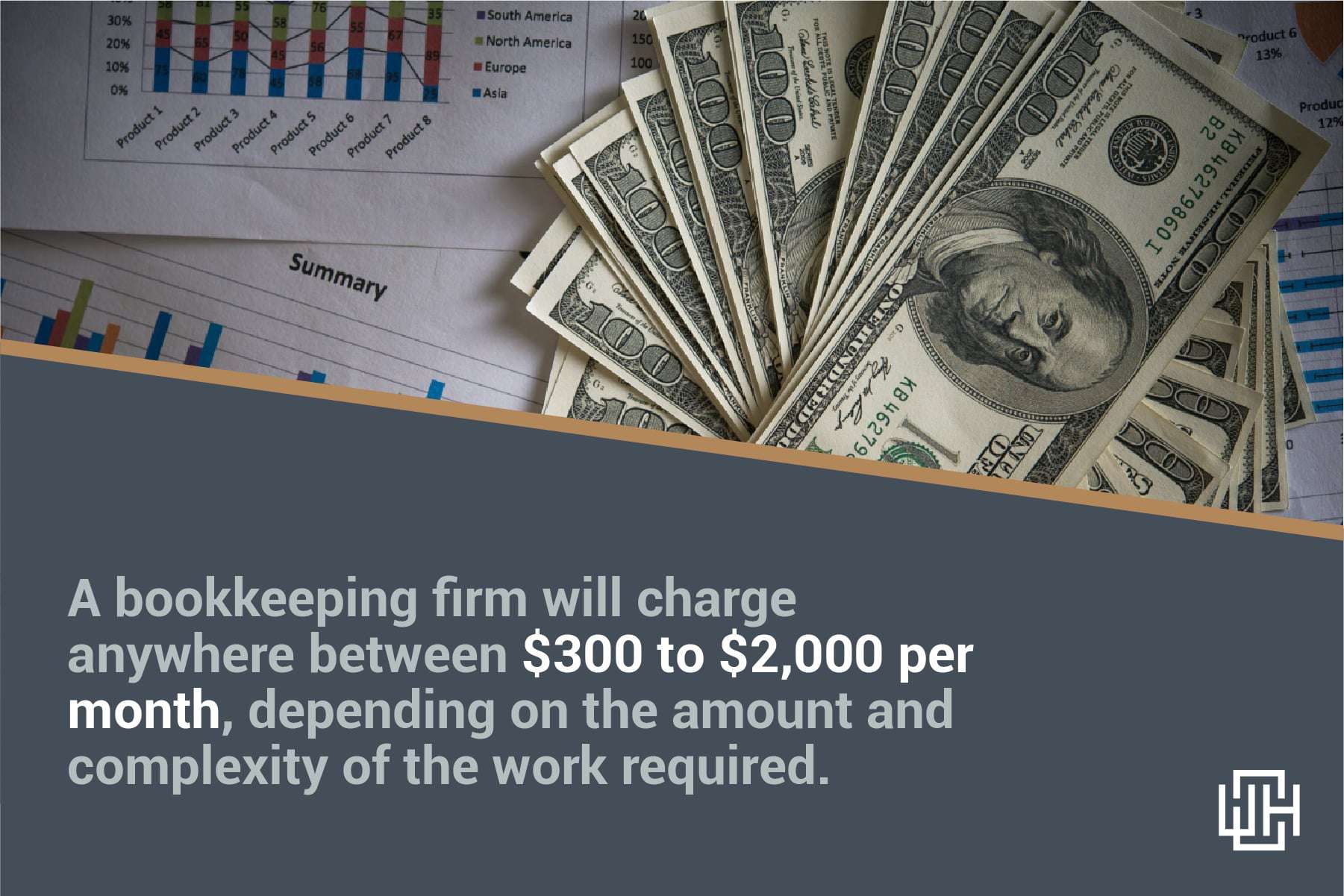 If you are interested in getting help with your accounting, we suggest contacting a firm. Once they hear your goals and requests, they can get you a specific price for their services.
And remember, the worst that can happen is that you choose not to hire them! 
How Does Outsourced Bookkeeping Work? 
The concept behind outsourced bookkeeping is great - but how does it work? 
Does every bookkeeper accept any client? How will you communicate well with an offsite money manager? 
The process may take varying forms with different accounting firms, but in general, there's not much to be worried about. 
When you work with a service like Weber Christensen and Heinrichs, here's how the process works: 
Step 1: Your dedicated account manager will work with you to set up integrations and connect all the financial accounts and software your business already uses. From there, the process is reliable and automatic — pulling your financial data from all sources and into (in our case) QuickBooks Online.
Step 2: The bookkeepers work together with software to record, categorize, and reconcile transactions. Meanwhile, you don't have to think or worry about your books.
Step 3: At the end of each month, we send over your clean and accurate financial statements.
Does Outsourcing Your Books Make Data Vulnerable? 
Absolutely not. 
A reputable bookkeeper should cover security measures before you sign on, so you know exactly what you are getting.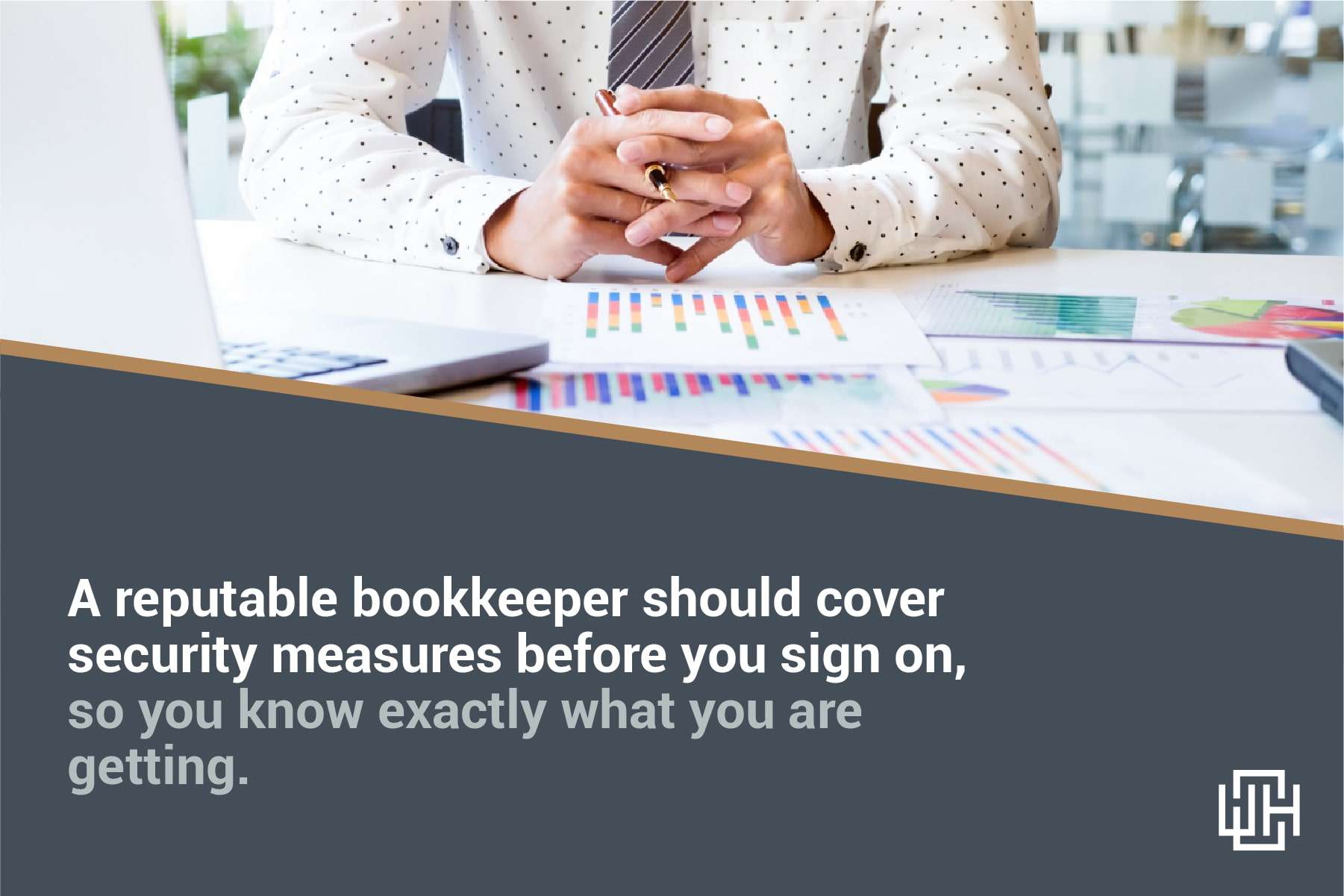 In fact, no one should have access to your data without your company's express permission. This includes your CPA, advisors, and specific employees. 
Will I Lose Control Of My Finances But Outsourcing My Bookkeeping? 
You don't need to worry about losing control of your finances with outsourced bookkeeping. 
You are still the one in charge of your business, and you maintain 100% control of any major decisions. In fact, every check should still be signed by you. You can decide what vendors get paid and when they should be paid. 
A bookkeeper provides you with information and performs specific tasks, but you approve all invoices for payment and sign all checks.
In fact, you should gain greater control over your finances with outsourced bookkeeping. 
With expertly managed bookkeeping, you can use your past performance to make better decisions and gain greater financial control over your future!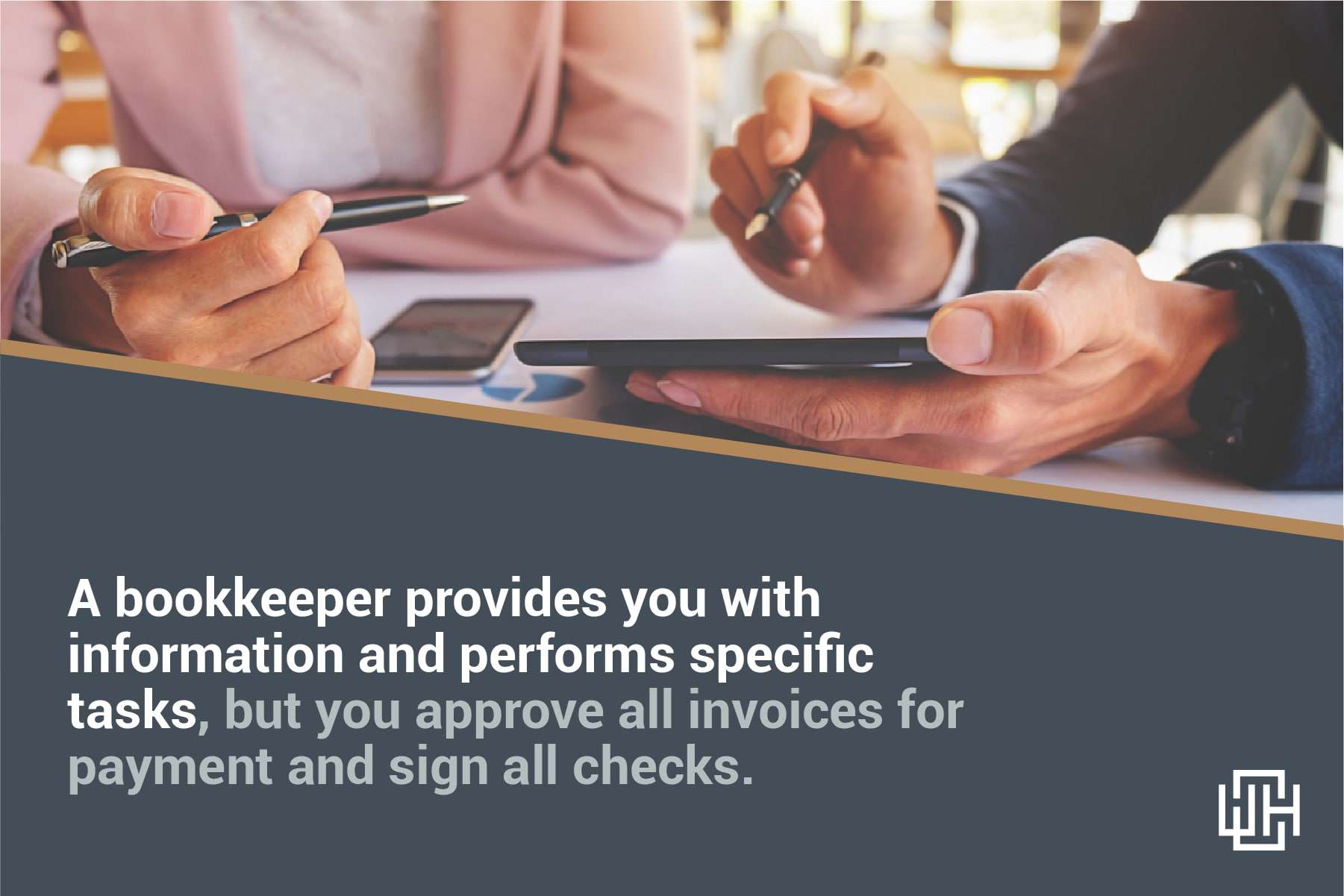 how to choose the right bookkeeper
for your business
Outsourced bookkeeping is a great idea, but at the end of the day, you have to trust whoever is managing your money on a daily basis. 
If you can't trust your bookkeeper, you might as well do the work yourself. 
That's why hiring the right people to manage your money is so important. 
Here's what you can do to make sure you have the right team helping you: 
1 - Choose A Company Led By A CPA
If the service company operates under a CPA, they must adhere to a code of ethics and always do what is in the best interest of their clients, not themselves. There is also mandatory continual education that forces them to stay current in accounting best practices.
2 - Check For Strong Technical Expertise
Choosing a company that focuses its core values and culture around being innovative will help streamline your accounting procedures. A service with strong technical expertise will be able to implement new tools and applications to help your business save time and money.
3 - How Much Experience Do They Have?
An experienced bookkeeper will be able to tailor their services specifically for the kind of work you're doing and the industry you're in. 
Having worked with many businesses before across industries, a bookkeeper will also be able to offer valuable insight as a business consultant—having seen firsthand what works and what doesn't.
4 - Check Reviews And Contact Clients
It may seem like a no-brainer, but checking to see how others have experienced any accounting firm is always a good idea! 
At WCH CPAs, we're more than willing to let our clients do the talking. Here's an example of the many positive reviews we've received: 
"WCH has been working seamlessly with my company for over 4 years. They are truly the Navy Seals of the CPA world - you hardly know they are there when they are working in the background, but you definitely know they are there when you need help."
5 - Can They Help You With More Than The Basics?
Accounting and bookkeeping should be about more than just numbers. 
It should be about how those numbers can be used to make your business smarter, more agile, and more successful. 
When choosing an outsourced bookkeeper, find someone with a growth mindset. Someone that can give valuable advice when you need it and take your business to the next level.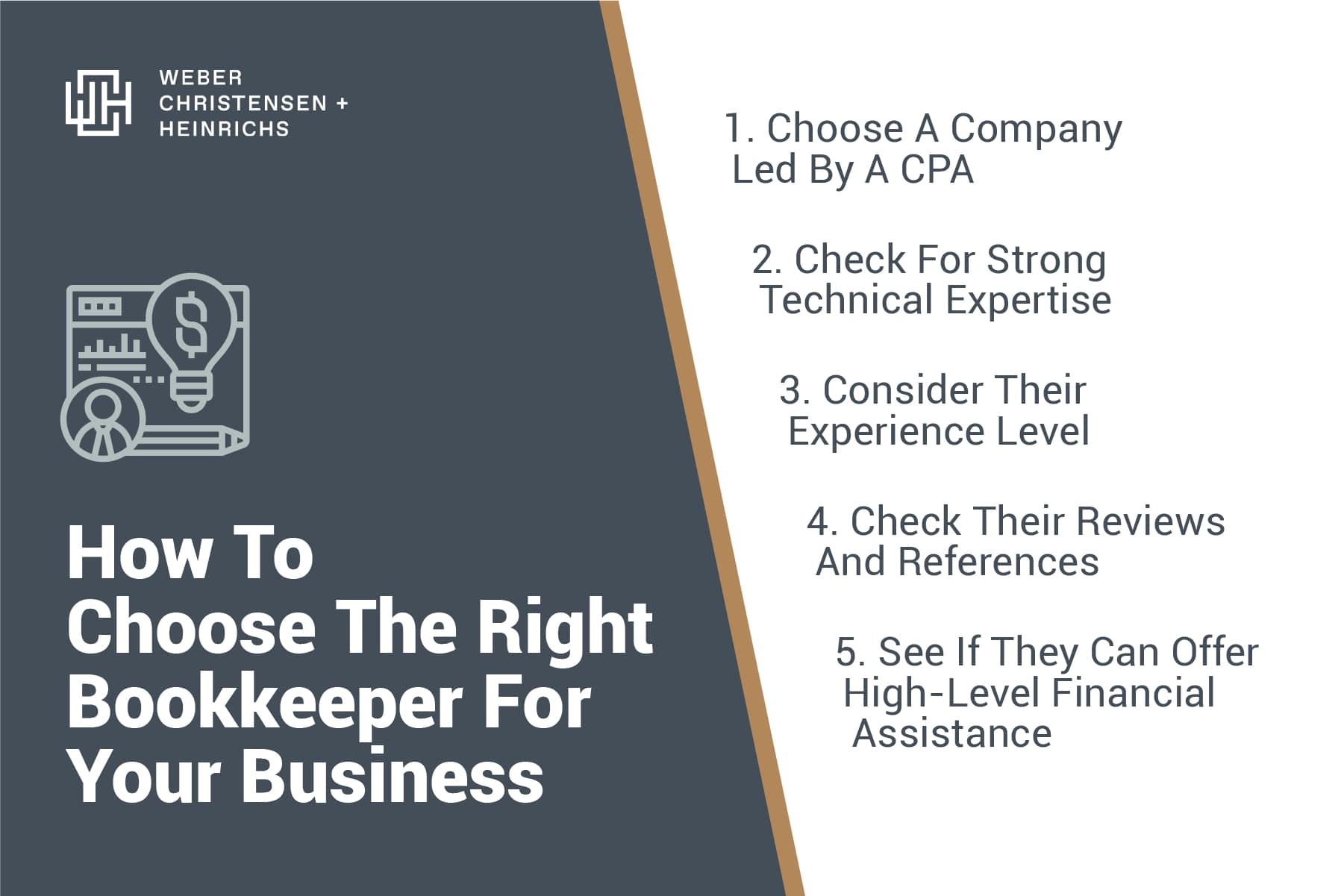 Knowing everything is hard! And even if you do know almost everything, finding the time to get it all done is basically impossible. 
Allow yourself to focus on what you do know and what is essential and unload the drudgery of bookkeeping. 
If you are looking for outsourced bookkeeping services in Newport Beach, San Francisco, or Walnut Creek, California, consider WCH CPAs. 
We are confident that our 40 years of experience will provide you with sound financial numbers that you can rely on. 
Beyond that, we love providing good advice that helps you make better decisions. In short, we want to make your accounting drive business growth - not hurt it! 
Contact us today. We look forward to hearing from you!  
You can also read our other blog posts on Outsourced Bookkeeping here.